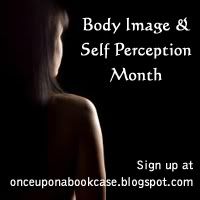 Here is a copy of her post describing the thoughts behind this educational month long event. Also a great idea to use in schools as part of their PSE lessons ;)
In my opinion, at the ages they are, teens are very impressionable. They see these stick thin models air brushed to within an inch of their lives in most forms of media that dictates that "this is what you need to look like to be beautiful" or "perfect" or, in some cases, "normal". There are too many teens out there that have such low self-esteem and self-confidence, and the media - as well as bullies and peer pressure - don't help. The extremes teens go to be "normal", and the depths of depression they can go to is just terrible, and I think this is such an important issue to be discussed. Being a YA fan, I thought looking at novels that tackle these issues is a great way to discuss the topic and shed some light on it.
And so Body Image and Self-Perception Month was born; a month long feature hosted by Once Upon a Bookcase where bloggers will be reading novels to look at how young adult authors deal with such an important subject. We'll be looking at novels that cover self-esteem and self-confidence, eating disorders, obesity, physical disabilities and disfigurement, to name a few. The month will involve reviews of YA novels covering the topics, discussions on the topics, author interviews and guest posts.
And here is a list of the books they will be reviewing:
Eating Disorders:
Second Star to the Right by Deborah Hautzig
Wintergirls by Laurie Halse Anderson
Purge by Sarah Darer Littman
Skinny by Ibi Kaslik
Skin by A.M Vrettos
Jane in Bloom by Deborah Lytton
Just Listen by Sarah Dessen
Nothing by Robin Friedman (with a male protag)
Food, Girls, and Other Things I Can't Have by Allen Zadoff (with a male protag)
Shrink to Fit by Dona Sarkar
Obesity/Over Weight:
Artichoke's Heart by Suzanne Supplee
Huge by Sasha Paley
Jumping to Confusions by Liz Rettig
Last Chance by Sarah Dessen
The Earth, My Butt and Other Big Round Things by Carolyn Mackler
Fat Kid Rules the World by K L Going (with a male protag)
Secrets of Truth and Beauty by Megan Frazer
Fat Cat by Robin Brande
Disability:
Shark Girl by Kelly Bingham
Accidents of Nature by Harriet McBryde Johnson
Deenie by Judy Blume
Leaving Paradise by Simone Elkeles
Izzy Willy Nilly by Cynthia Voigt
Everything Beautiful by Simmone Howell
Crazy Beautiful by Lauren Baratz-Logsted
Disfigurement:
North of Beautiful by Justina Chen Headley
Out of the Fire by Deborah Froese
Beastly by Alex Flinn (with a male protag)
Body/Feature Issues:
Fairest of Them All by Jan Blazanin
My Big Nose and Other Natural Disasters by Sydney Salter
Uglies/Pretties/Specials/Extras by Scott Westerfeld
Pretty Face by Mary Hogan
Blood Ties by Sophie McKenzie
King of the Screwups by K L Going (with a male protag)
I think this idea is awesome : D I have added the books to my wishlist and will be talking to schools about incorporating them into their PSE lessons. Thanks Jo